The story of Johnny going to the Navy Ball is so inspiring to out-of-home care youth who are struggling to find their way. Besides serving as a good example, Johnny inspires these youth every step of the way while helping them find their path.
Consider this an invitation from us to open your home to YOUTH AND TEENS who need to find their way. With compassion and understanding, we can make a difference in their lives. 
At Strengthening VC Families, we need compassionate help and homes for our youth and teens transitioning out of care.  These youth are starting to make their own decisions about who they want to be, what they want their lives to be, and how to move into adulthood successfully.  It's so important
for them to have the love of a family or mentor who understands—someone who can listen and guide them through becoming an adult. We believe that your family may be just the place for that kind of support! 
All families that can open their homes to help youth and teens, especially those that self-identify as LGBTQ, are essential now. Could you consider helping youth and teens with finding their own identities, their joy, and their hearts?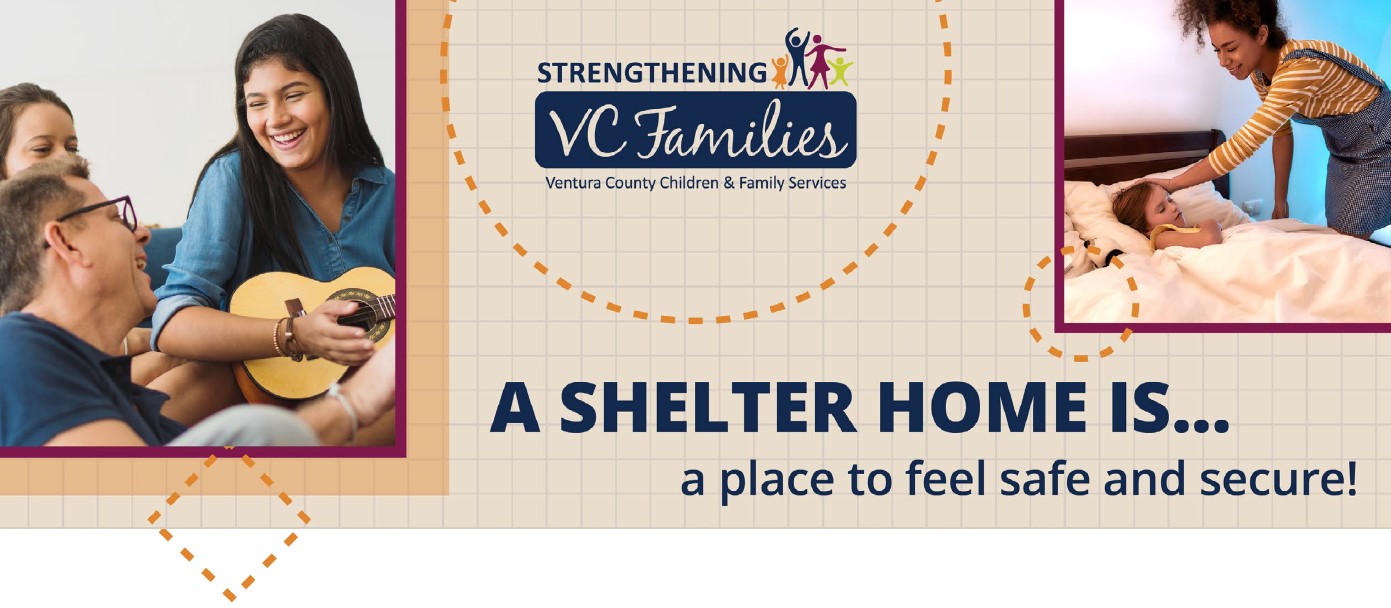 Are you ready to help Ventura County CFS make a difference?
If so, Strengthening VC Family's needs loving Shelter Homes to open their homes and hearts to children in need. 
We believe that children who go into out-of-home care require support, love, and most of all compassion. They need a place where they can feel safe and secure. They need someone who will show them that their lives have value. As a Shelter Home Family, you would be providing comfort, safety, and a loving environment where the children and youth can heal and begin to thrive.
Your family's life will be enhanced, expanded and made more meaningful by becoming an Emergency Shelter Home for children and youth who need support, love and mentoring as their families heal.
If you've ever wanted to make a difference in the world, now is your chance.
At Strengthening VC Families, We Believe
Ventura County's Children and Family Services has created an innovative, forward thinking division that has a number of ways to help families succeed. To help families come back together. To give children and youth love and support and care at all times. We believe it is possible.
Strengthening VC Families
The County of Ventura Human Services Agency, Children and Family Services (CFS) vision is to offer support, hope and opportunity to those families and children in need. It is through this vision we have developed Strengthening VC Families approach.
Our Family and Youth Services are geared around our belief that every child deserves permanency, and every family deserves to stay together whenever it is safe. We also wholeheartedly believe and strive toward the ideal that it takes an entire community to help keep a family together by showing them love and support.
Through Strengthening VC Families, we strive to make a paradigm shift away from rescuing children and instead utilizing our family and youth services towards working together with our professionals as well as members of the community to keep families together whenever possible, especially our amazing resource families. Our main goal at Ventura County Children and Family Services is to keep children safe while strengthening their families and providing a network of community support around them.
Safe at Home
We Believe families can keep their children safe with support. And if they can't…
Caregiving
We believe children and youth should be cared for in a familiar, nurturing, and safe environment.
And while they are in care…
Child's Experience
We believe every child and youth is entitled to thrive through stability, family connections, quality treatment and a voice in planning.

Parental Support for Reunification
We believe, through partnership and support, parents can grow and change in order to safely parent their children. And if the children cannot return home…

Forever Connections
We believe all children and youth deserve a sense of belonging and an unconditional commitment in a lifelong family, supported by their communities.

Relationships
We believe in the power of human relationships to heal and grow. The people who serve and support children, youth and families are our greatest resource.
Neighbors Together
Neighbors Together Initiative is a project under the Ventura County Children and Family Services (CFS) "Strengthening Families" umbrella of programs, with the purpose and focus of using data-informed methods to identify, refine, and bring additional effective practices and partnerships that improve family outcomes in diverse, high-need neighborhoods.